| # | Top Players | Moves |
| --- | --- | --- |
| 1 | ClamHammer | 102 |
| 2 | BillyC | 105 |
| 3 | brittney | 105 |
| 4 | Xui | 107 |
| 5 | p1ayboi.brent | 107 |
| 6 | Isko | 108 |
| 7 | Fixl | 108 |
| 8 | MgKing | 109 |
| 9 | nero | 110 |
| 10 | qictrk | 110 |
| | Leaderboard | |
| | Register | |

Play Solitaire Online For Free and For Fun
Welcome to Solitairen.com – the latest platform where you can play solitaire online for free. This website was made to provide you with tons of hours for fun. But save for providing you with access to the best Solitaire games on the web these days, we are also dedicated to introducing you to the world of Patience games at total value. Playing for fun is not as risky as real money games, but if you want more positive emotions and wins, you need to be aware of the best practices, strategies and rules.
If you agree, we are happy to invite you to our website. Here's where your journey to the free solitaire patience games starts. Have our company by your side to make it more successful, meaningful and full of daily victories.
You can also check out some of the other free games we have, including Solitaire Turn 3, Klondike Solitaire, Spider Solitaire, FreeCell, Hearts, Spades or Mahjong.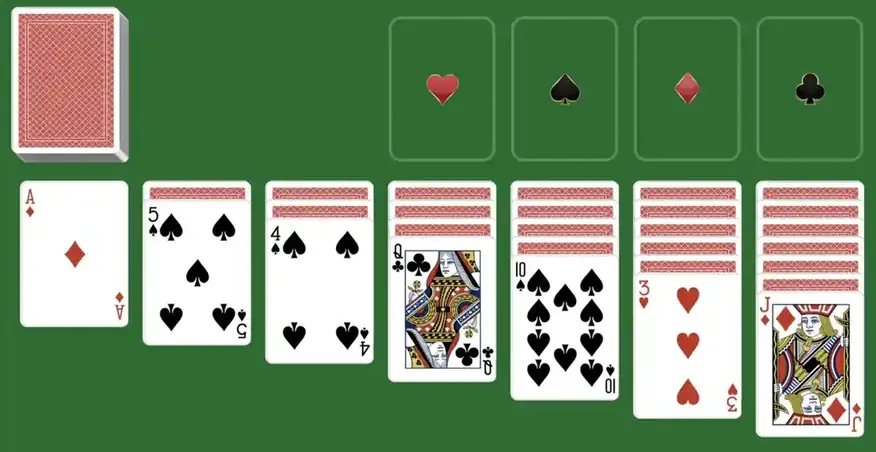 What is Solitaire?
Solitaire is one of the oldest games in the world. You can also meet it by the name of Patience game as it takes lots of patience to learn how to play Solitaire and how to win eventually.
This is a classical card game. In most cases, you need a standard deck of 52 cards. Due to the game's progression through the years, you can also meet many free solitaire patience games with fewer or more cards.
Solitaire also falls into the company of the single-player games. This means that you don't need a partner or a considerable number of opponents to play it. In short, we can also determine this game of a "building" type. It's because Solitaire requires you to build a foundation of piles of cards via a concrete set of rules and strict chronological order.
Who invented Klondike Solitaire?
You will find Solitaire by the name of Klondike in many materials, platforms, apps and even ordinary paper books. The two terms refer to the same type of game. As a matter of fact, Klondike is the first name of this game prototype. Speaking of which, you might be wondering who invented it.
When it comes to Solitaire background history, you should know that there are several essential development phases through which the game has moved to appear in its present look and set of rules. But the beginning of the Solitaire game is reportedly back in ancient times. Many historians claim this fun type originates in the Greek or Roman epochs. Back then, the game wasn't played with a classical deck of 52 paper cards. Instead, the players used stone piles, handmade wooden elements, and you name it.
It's exciting that other history experts say that Solitaire has a Scandinavian descent. This suggestion is related to a legend according to which, after imprisonment, an intelligent man decided to invent a form of mathematical fun to become less monotonous and not get crazy. This is how the game was spread among criminals, which is probably why, in the 17th century in Switzerland, the states banned Solitaire, determining it as a "prayer book of the devil".
On the other side, the closest version to today's Solitaire design was named Klondike, and it was created at the end of the 18th and the beginning of the 19th century. There are many theories about the original Solitaire creation, but most relate it to the French Revolution. Whether in France or another country, Europe definitely became the region from which the game's current look was spread among the different continents.
What are the modern solitaire games?
Through the years, the game has gone through a lot to acquire the present design of the free solitaire patience games. Similarly to many spheres in our contemporary life, the technology revolution has made Solitaire strengthen its position as a card entertainment.
Many Klondike lovers among the Z generation don't even suggest that this game has become so popular thanks to one of the IT leading pioneers. The extensive Solitaire modernization starts with its digitalization. The year was 1990th, and the first home computers were released for sale. There was no option for an OS back then except for the classical Windows. There was not much to do for fun in this primary desktop device infrastructure except for Solitaire. What Microsoft made was to make the game a part of Windows, and it turned into the first popular computer game of all time.
These days, we can still find Klondike solitaire integrated into operating systems, applications, websites, forums, social media. The game is still widespread across the audience, so its formats have been rising through the years. As you can guess, on our website, you can meet most of them – 100% for free and accompanied by a step-by-step guide.
What are the Solitaire rules?
In these guides, our team's instructions mainly focus on the game rules. It's important to mention that different Klondike solitaire titles have different goals, chronologies to follow when arranging the cards, sometimes different requirements for the number of playing cards, etc. But the set of essential rules is identical in most of the Solitaire games.
Solitaire rules are simple and easy to understand. A player should create a concrete foundation of all the cards to finish respectively win the game. For this purpose, the user is supposed to move cards from one tableau pile to another. It's also possible to move whole groups of cards.
What do I need to play free solitaire patience games?
There are two ways you can play free solitaire patience games. The first – the old-fashioned method- is having a deck of 52 cards. In this case, you should select in advance a concrete format – Spider, Spades, Pyramid and so on.
The second way is the digital way. Play Solitaire online. You don't even have to look for a website with Klondike. Our website provides you with the top beloved Solitaire games in one place. You can test them all.
No matter what method you prefer, keep in mind that you will need some other things to play Solitaire games, including:
A guide. No matter how simple this game is, you will not be able to win without knowing its rules. Don't leave our website because you will get a top-notch set of instructions to play free solitaire patience games.
Soft skills. Solitaire is not as tricky as blackjack; for instance, you should have a solid strategy and constantly count the cards. It's also not like poker, where you need to know how to bluff and integrate some psychological knowledge and tactics. Yet, soft skills like patience, adaptability, staying focused, self-leadership and high motivation are necessary.
Time. Although Solitaire has always been played for fun, they require you to invest some time. Many formats are made to take an hour for you to build the entire foundation.
Dictionary. Thankfully, the terms aren't that many in free solitaire patience games. It would help if you had a few minutes to learn the basics. Here are the essential keywords you should know before starting your first Klondike game:
Stockpile – a set of cards with their faces down. At the beginning of any Solitaire game, all the cards are in the stockpile, and with each next move of yours, you reach and place them in the foundation with their faces up. The Stockpile is available, though, for you to use it for the tableau.
Foundation – this is another set of cards. The set, though, is formed of several piles. There are 4 in total, and each pile refers to a concrete suit. The foundation is closely related to your main goal in the Solitaire Klondike game – to move the cards from the deck to these four foundation piles. Remember that you cannot only place a card in a concrete pile by referring to its suite. You should also follow the chronology of the cards, which is specific to the different free solitaire patience games (for instance, from K to A, from A to K, and you name it).
Tableau – this is the final – third – set of cards in the game, and it's also made of several piles, but each of them has 7 cards with their faces down, excluding the last card, which is with a face up. All the remaining cards from the deck are transferred to the tableau pile with their faces down. You have the right to move different cards from the tableau directly to the foundation and from one tableau pile to another. The only requirement you should keep in mind is the correct order of the tableau pile – in descending order and alternating color.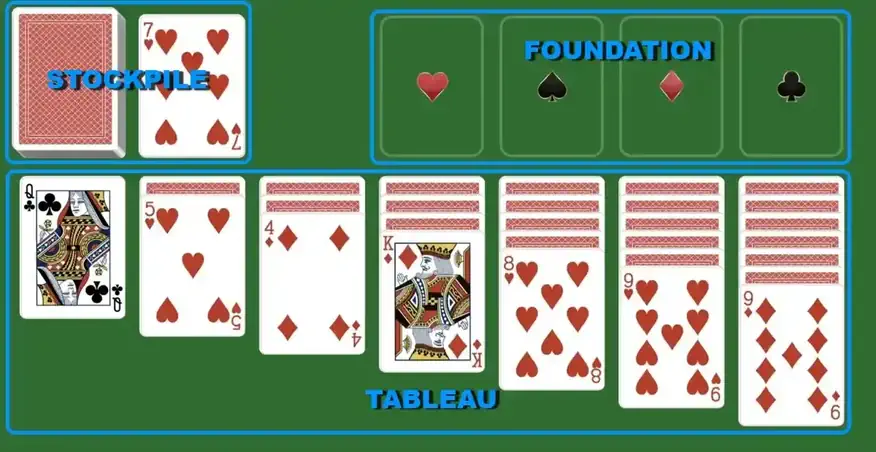 How to play Solitaire?
It is not difficult to learn to play Solitaire online. Especially on our website! It's because we provide a concrete guide for the gameplay of each Klondike popular title. Basically, here are the rules to follow when you start a concrete game:
First of all, examine the top cards of each tableau pile.
You can move cards onto tableau piles if they are in descending numerical order and of a different color (e.g., a red Queen can be placed on a black King).
When you see cards that can be moved directly to the foundation piles, perform the movement without delay. Ace cards can be moved to foundation piles directly.
Always consider how to make some empty space within each of the seven tableau columns to simplify your next moves. On an empty tableau column you can move only a King.
Solitaire Tutorial – Video Gameplay Guide
Below, we show you a short video tutorial where the basic movements in Solitaire games are performed. We strongly recommend you check out the entire video and follow the sequence of the rules from the previous paragraph.
When needed, pause the video and go back to the instructions. It's a must for you to fully and clearly understand the philosophy of the free solitaire patience games.
What's the Best Solitaire Strategy?
Like in any other game, in Solitaire, people need a couple of games to learn the rules and understand its basic gameplay. A bit later – after playing dozens of free solitaire patience games, you might start thinking about a strategy.
Building a tactic to win in Solitaire or any other card game is a matter of personal approach and individual skills. Yet, there are a couple of universal tips that everyone of you can put into force to get closer (and faster) to victory.
Our team of Solitaire Klondike experts has gathered the best essential hacks and tricks for you to follow:
Always plan ahead. When you make a move, don't perform until you make sure that it won't corrupt your next 2-3 moves.
Stick to the principle of color balance. Make sure to work with the seven tableau piles and not neglect any suits.
Uncovering is the key. The more cards with their faces down you open up, the better for your overall Solitaire Klondike activity.
Have a concrete plan for the foundation before the game starts. Make a quick strategy for how exactly you will act to build your foundation. No matter what moves you make, they should be done in the name of this foundation.
Avoid blocking any of the Aces. This means you shouldn't place a card in front of the Ace, no matter what tableau you are working on right now. It is because, in 99% of the cases, the Ace puts the beginning of any pile management.
Movements with sequences. When you make an entire unit, move it fully. This will save you lots of time.
Don't forget the Draw Pile. It's where you have more cards to reveal.
Why Playing Solitaire?
Many people play Solitaire for fun, to kill boredom, and to spend their leisure just doing something. But did you know that specialists from many spheres, including medicine, psychology and others, claim that Klondike can be helpful and valuable.
Here are the scientifically proven benefits of playing free solitaire patience games regularly:
Solitaire can be pretty relaxing. Whether you are in a dark place and have dark thoughts or it is just another dynamic and stressful day, a couple of hours spent in Klondike activity can relieve the pressure and the tension.
Upgrades your patience. Indeed, you need patience to win in a Patience game. However, if you don't possess this soft skill, the more free solitaire patience games you play, the more patient you will become.
Works as a therapy. Some psychiatrists say that Solitaire games can reduce anxiety symptoms.
Gymnastics for the brain. It's been several decades since neurology scientists have proven that learning new things, reading and playing board games can reduce the risk of dementia in people of a mature age. Solitaire is an excellent option for them. However, you don't have to be in your 50s to start playing free solitaire patience games. Some people turn to Klondike activity when they get stuck, with zero inspiration or in case of a blockage before an exam.
Improve your cognitive abilities. Your memory, staying focused, and your motivation will improve if you start playing free solitaire patience games regularly.
Top Popular Solitaire Games
There are more than 500 hundred Solitaire patience games to play. We present you the most interesting, intriguing and engaging Solitaire games you should try. Of course, the majority of them are the top popular Solitaire Klondike titles, including:
Heare are some more interesting games:
Top Interesting Facts About Solitaire You Did Not Know
To arouse your curiosity in Solitaire gaming culture, we have a couple of more things to tell you. Especially for you, our sincere readers, we have gathered some of the most exciting facts about Solitaire Klondike you have definitely never heard about:
The origin of the word Solitaire is French. The term comprises two famous words – solus for "separates" and solitas "isolation".
Solitaire is one of the most popular card games in the world. It is estimated that over 100 million games of Solitaire are played every day.
Online Solitaire is even more popular than traditional Solitaire. This is because online Solitaire is more convenient and accessible. Players can play it on their computers, smartphones, or tablets.
Unlike most games, the Solitaire game offers more chances for a win than a loss.
It was a Microsoft shy intern's idea to put Solitaire in the Windows set of features.
Online Solitaire games became popular in the 1990s. This was due to the rise of the internet and the popularity of web browsers.
Solitaire is sometimes a source of income. There are significant international events where professionals gather to combat. Solitaire has recently been added next to Dota 2, and CS Go is in the list of the top eSports disciplines.
In the past, Solitaire was used by magicians and fortune-tellers to predict the future.
Queen Victoria and Bill Gates are the most famous celebrities who are huge fans of Solitaire.
If you want more information, facts, strategies and concrete titles from the endless universe of Solitaire Klondike, visit our page regularly. We promise not to disappoint you when it comes to having fun and a victory in this legendary card game!
---